Thank you, Parents (and Kids)!
T&K is honored to share the news that 6 of our new 2016 kits and games have joined the ranks of manyother outstanding toys as Parents' Choice Award winners! Thank you to the Parents' Choice Foundationand its panel of parents, children, educators, librarians, and toy experts. We appreciate your support of T&K as well as your dedication to identifying the best products for kids of all ages and backgrounds.
Imhotep – Gold Award CodeGamer – Gold Award
Kids First Science Laboratory – Gold Award RCM: Custom Cars – Gold Award
Kids First Robot Engineer – Gold Award Magic: Onyx Edition – Silver Award

Magic: Gold Edition' Amazes the NAPPA Awards Committee
The National Parenting Product Awards (NAPPA) deemedMagic: Gold Edition a top-notch magic kit for "pint-sized magicians." Check out the complete listing here.
Most Wanted by TTPM: 'Kids First Science Laboratory'
TTPM selected its annual "Most Wanted" list earlier this month. This list includes the hottest toys for the holiday season, andKids First Science Laboratory made the cut in the educational toy category! Click here to read why TTPM thinks this kit for budding young scientists is so great.
The Toy Insider Recommends 'CodeGamer'
Toys that teach kids about coding are everywhere this holiday season. The Toy Insider dives deep into this top toy trend in a round-up of coding toys, including CodeGamer! Click here to check out what the top toy experts have to say about this Top Tech Toy.
FUN FACT: As of the beginning of October, T&K products generated more than 774 million
media impressions in 2016 alone.
NEW RELEASES
The first large expansion for Legends of Andor, the wildly popular cooperative board game for 2 to 4 players! Journey to the North offers four legends with new challenges, new heroes, and new creatures.
Ages 10+ | MSRP: $49.95
FUN FACT: T&K offers products in four major categories: science kits, craft kits, board games,
and magic performance sets.
Hot Ice Crystals
Hot Ice is COOL! With this new Geek & Co. Science kit, you can create an elegant crystal castle with shimmering spires and mold a crystalline polar bear and seal. Watch the super fast-growing crystals in action in our latestproduct video.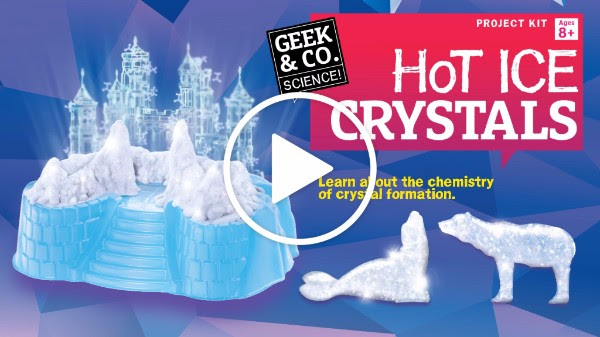 FUN FACT: T&K's first ever science kit, the Fuel Cell Car & Experiment Kit, won a
Parents' Choice Silver Award in 2002.